21.Feb.2011 at 21 | admin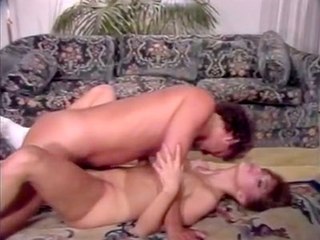 It's that time again: Prom night at the Cumberland School for Girls. Principal Shanna McCullough has her hands full trying to keep everything running smoothly — and trying to keep her sexy students from engaging in any salacious shenanigans. Shot by legendary director Alex De Renzy, 'Prom Girls' is a fast-paced romp that delivers plenty of lusty laughs and lots of scrumptious sirens doing what they do best. Shanna relates a torrid tale from last year's prom, when Megan Leigh joined a pair of tuxedo-clad studs in a frantic threeway fling. Back in the present semester, Eva Allen turns a dress fitting into an afternoon of debauched delights when she seduces her tailor. Dana Lynn trysts with her prom date Tom Byron right out on the school's front lawn! And luscious Aja and Renee Morgan turn a biology study session into a scintillating Sapphic blast. Meanwhile, Shanna gets a bit distracted from her disciplinary chores when deans Peter North and Kendall Marx convince her to let down her hair — and her dress — for some steamy threeway fun. The three freaky faculty members get down and dirty in an explosive scene that really brings out the best in all of them. Filled with tasty young tarts and oodles of eroticism, this is one prom night you won't soon forget!
Lenght: 01:06:01
Year: 1988
Director: Alex de Renzy
Starring:
Joey Silvera
Eva Allen
Tom Byron
Rene Morgan
Aja
Peter North
Lisa Bright
Shanna McCullough
Dana Lynn
Megan Leigh
Blake Palmer
Click on image to download video.