20.Sep.2010 at 20 | admin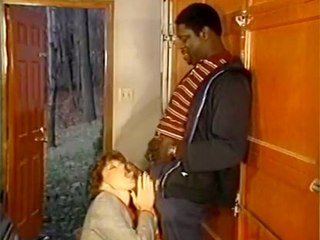 Charlie Latour turns in the performance of her lascivious lifetime in this raucous look at one woman's erotic adventures in suburbia. This venture stars Charlie as a perpetually horny housewife who just can't seem to get enough action. Even after a white-hot early morning coupling with her beau, she's still not satisfied. She tells her hubby to hurry home, but soon finds herself confronted by house calling veterinarian Jerry Butler. She's caught in the act by uptight neighbor Sharon Mitchell, and scrambles to find a cover story to tell her hubby. Charlie decides to go buy a pet, so she can justify the vet's visit. Of course, when she tries to leave her car won't start! She calls in a pair of mechanics to help fix her car, but finds herself in a blistering threesome right there in her own garage. As if that weren't enough action for one day, when her husband comes home he's brought her a present. It's lovely Gina Carrera, with whom they enjoy another merry threesome on their living room sofa. The whole thing is sort of silly, but Charlie's powerfully sexual performance drives it to untold erotic heights. Fans of hardcore will find lots to like in this feverish romp.
Lenght: 01:05:27
Year: 1986
Director: Charlie Diamond
Starring:
Gina Carrera
Sharon Mitchell
Charlie Latour
Jerry Butler
Scarlett Scharleau
Jake West
Greta Patrick
Jean Valjean
Click on image to download video.